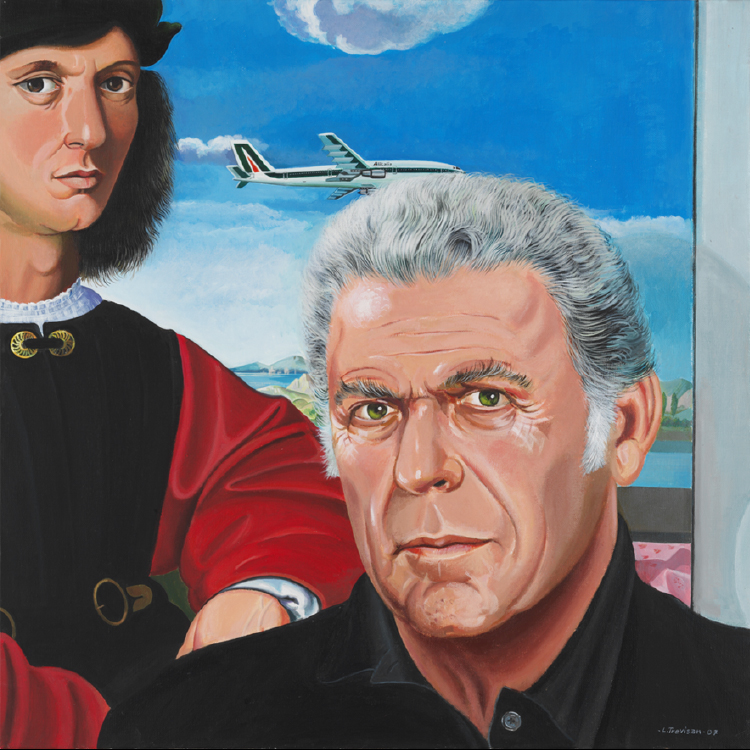 AUTORITRATTO 2007
ACRILICO SU TELA 70 X 70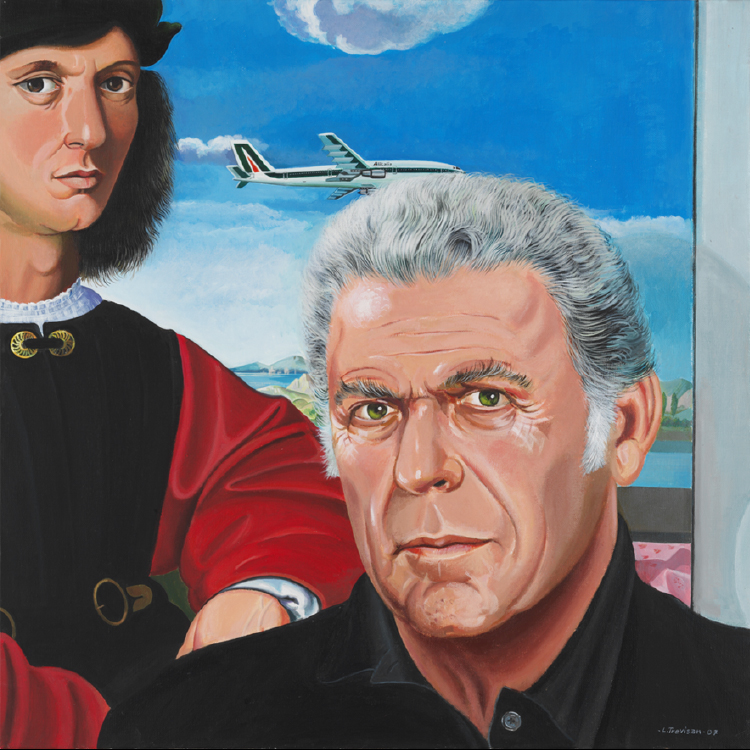 Luciano Trevisan was born in Venice on february 8 1938. He first studied art at the Istituto di Belle Arti in Vercelli,where one teacher, Francesco Vertice, indroduced him to painting. He then moved to Milan to pursue his studies at the Accademia di Belle Arti di Brera and at the Castello Sforzesco School.
Hardworking,post-war Milan introduced the young Trevisan to a multifaceted world that was to school him in the many aspects of his future trade: from restoration work to stage sets; from interior decoration to architecture; from illustration to strip cartoons.
After a course of study in Zurich, he remade greatly impressed by the acquaintance of the great modern masters in graphic design and architecture: from the Bauhaus philosophy of Walter Gropius to the Functionalism of Alberto Sartoris; from the Rationalism of Le Corbusier to the Industrial Design of Alvar Aalto and the Modernism of Antoni Gaudì.
Back in Milan, he studied and there began his adventure into the world of graphic design and communication. Having started out as a free-lance working for major advertising agencies, he then took a job with one of them, Studio Publicor. His campaigns for the Upim Rinascente retail chain date from the Publicor period: Trevisan designed the graphic image for new Upim department stores and was also responsible for their stationery and advertising.
Over those years, Luciano Trevisan supervised any number of campaigns: for Vidal dubble bath and Atkinsons, as well as the early promotions for Esso. The huge Magneti Marelli stand for the Milan trade Fair Centre and the Esso Agricoltura stand were also his creations. At the same time, Trevisan was doing industrial design work.
Trevisan spent 1972-1987 as Creative Director and joint owner of MPA, the first Sales Promotion agency in Italy.
At MPA, he produced Capitan Dash, Italy's first personality promotion and its first promotional competition with prizes, "Turn the key and Win" for General Motors. He was also responsible for the Esso Shops symbol, banners and display cases and designed the grand openings of many Esso Shop promotions.
As he tirelessly pursued his career as an ad man and a communication creative, Luciano Trevisan designed promotions and press campaigns, TV ads, show stands (including the spectacular Gucci stand at the 1986 Pitti Filati Show), as well as packaging and logos for hundreds of leading brands.
Yet, even in the thick of life in the tough, complex, diversified, world of communication, Trevisan always found time to paint.
His paintings visualise his state of mind, transcribe into paint his concern for a world that is rapidly sliding towards social breakdown.
His paintings reveal a heart-felt yet composed awareness, not just of human needs and problems, but also the human desire for answers and for help. The images he depicts are sustained by an idea; they force us to think, to pause for a moment, to examine our own hearts and attempt to understand ourselves.
In 1987 Trevisan left MPA to devote himself to free-lance work.
Since then he has designed coordinated corporate images covering everything from logos to stationery: from office interiors to sales outlets and factories, from shopping centres and show stands to advertising. In addition,several of his most devoted clients have invited him to restore and decorate their beautiful old houses. Trevisan is never happier than when working at his big wooden easel with pencils and pigments and he has never forgotten the painter's ancient craft.